Alice in Wonderland – dream garden
Alice in Wonderland exteriors – your dream garden
As the spring has already come and there are only a few months until summer, you are thinking about a perfect setting for enjoying tea in your dream garden
So, what is the first association you have if we mention tea? Or, even better, what would a younger version of yourself think on hearing tea? Of course, Alice in Wonderland! Is there are any better solution for drinking tea then making Alice-like setting? And, "
It is always tea time
"!
Every dream garden needs to have a tea drinking corner so let us think about the ways how to turn yours into the one which will make everyone think they are in the Lewis Carroll's book and make you the favourite place of both your friends and colleagues to have fun at this season.
From basic to amazing
First of all, let's start from the essential details like benches and tables. Those need to be basic ones you could embellish with versatile details. Go for wooden benches covered in white cloth and maybe get a bit creative and make pillows with card-like prints. May the biggest one be the one with the Queen of Hearts.
Hang those tea pots
The surreal world of Alice in Wonderland needs to be obviously reflected in your dream garden, so you need to think outside the box. Placing your tea pots neatly will resemble a Victorian novel instead of this one. Think about placing the pots hanging on a tree. Think about a Christmas tree that is covered in many details and put tea pots in the same manner on a tree on your garden.
Turn the world upside down
Paint the tiles in your garden bluish to resemble the sky, as you want to show the world turn upside down. And above the table you could put a kind of curtains which resemble garden tiles.
Get the figures from the book
Children toy stores are brimming with stuffed toys and statues from the cartoon version of the book. Opt for Cheshire cat statue and place it at the entrance to your tea corner to welcome the guests. You can buy the Caterpillar long pillows to put on a chair opposite the bench with card-like pillows.
Keys everywhere
Collect a lot of versatile keys and place them all over the garden. The larger the better. You could colour them in pastel hues to depict the fantasy like setting of the book. You may even want to cover another tree in keys of different size and shape, but bear in mind that it is not too close to the one with tea pots.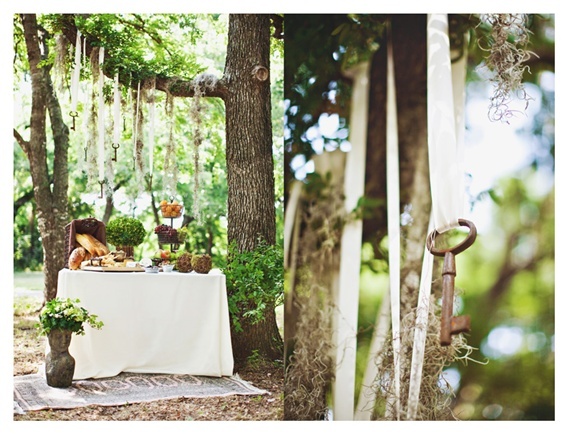 Let the accessories speak
Alice in Wonderland themed dream garden is not a plain one, there need to be versatile details and those have to be unusual ones. Finding the perfect accessories may be hard, but if you know where to look for it


things will be done quickly. Maison De Luxe is a good illustration of the French provincial style that's perfect for this Lewis Carroll interpretation in your garden. I found their antique clocks to be perfect for this kind of setting and if you add magnificent drawers and place lots of flowers on them you will easily achieve the fairy-tale-like atmosphere in your new favourite corner.
Standard tea corners in dream gardens are mundane. The new trends are all about the creativity and surreal elements. And is there anything more creative and surreal to incorporate in your favourite outdoor place than Alice in Wonderland resembling details? With the right pieces you will soon drift off to a fantasy land while drinking tea in your own Wonderland. It is always Alice in Wonderland time.
https://allblogroll.com/alice-in-wonderland-dream-garden/
https://allblogroll.com/wp-content/uploads/2016/03/image-4.jpg
https://allblogroll.com/wp-content/uploads/2016/03/image-4-150x150.jpg
Home Improvement
Decoration,garden,Home improvement
Alice in Wonderland exteriors - your dream gardenAs the spring has already come and there are only a few months until summer, you are thinking about a perfect setting for enjoying tea in your dream garden. So, what is the first association you have if we mention tea? Or,...
Anatoliy Simeonov
Anatoliy
Simeonov
anatoliy.simeonov@gmail.com
Administrator
All blogroll - The informative website