10 Beautiful Ski Fields in Australia
Australia might not be the first place you think of when you imagine skiing through heaps of pure white snow, however, there are many quaint resorts and beautiful ski fields to be found in the land down under. Ski season is from June to October each year and many Australians head to the mountainous resort towns to frolic in the powder snow
Check out some of the most beautiful ski fields in Australia below and start planning your next family holiday!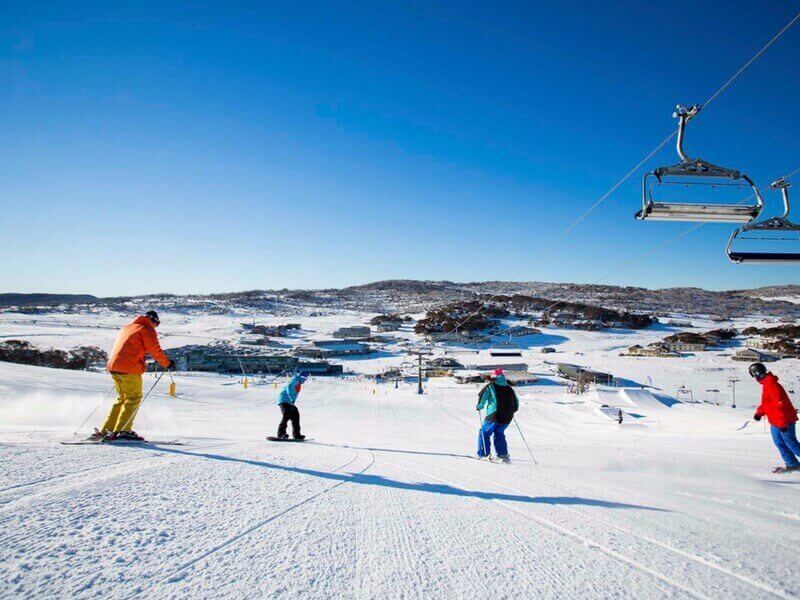 Perisher, New South Wales
Out in the Snowy Mountains region of New South Wales some of the most beautiful ski fields in Australia. Perisher is home to Australia's largest ski resort. The area is made up of four resort areas; Perisher, Smiggins, Blue Cow and Guthega. Spread out over 1,245 hectares Perisher has a family-friendly vibe with lots of activities for all the family, including Night Skiing, Terrain Parks and the resort town's own snow-tubing park Tube Town. At night there are firework displays and lots of apres ski entertainment and dining options.
Thredbo, New South Wales
Thredbo Alpine Village offers gorgeous surrounds for skiers and snowboarders of all skill levels.
First time skiers should try out the giant purpose-built beginner areas fitted with gentle slopes and a designated 'first time only' area. This lets beginners test out their skills and get to grips with their technique before trying more dangerous runs. One of the most beautiful ski fields in Australia – Thredbo also offers plenty of family-friendly runs suitable for beginners and a Milo kids club for kids aged 3-6. As the evening sets in the adventurous can try some night skiing or stay warm at the village with a traditional hot chocolate.
Falls Creek Ski Resort, Victoria
Falls Creek has a reputation for being Victoria's most exclusive ski resort and one of the most beautiful ski fields in Australia. Falls Creek is also the biggest ski resort in the state, filled with 450 hectares of skiable terrain – so there's more than enough room to spread out on the ski fields. There are around 90 runs and 14 ski lifts, with activities for all skiing abilities. Although around 60% of the terrain is suited to intermediate skiers, there's still plenty of opportunity to spend a brilliant family holiday together.
Mount Buller, Victoria
Located at around a three hour drive from Melbourne, Mt Buller boasts over 300 hectares of skiable terrain. There are a huge range of downhill ski slopes and runs suited for skiing and snowboarding. If you're a beginner, head to the gentle slopes of Bourke Street and enjoy space wide enough to practice your turns, or if you're an experienced skier looking for a challenge of black runs towards the back of the Summit. There's also accessible snow options for the kids, or nervous beginners, at Mount Buller's two toboggan parks.
Mount Hotham, Victoria
Situated in the Victorian Alps of the Great Dividing Range, Mount Hotham is highly regarded within the skiing community. Standing at 1840 metres above sea level, 'The Giant' resort is the most elevated in Australia. The resort draws plenty of enthusiastic skiers each ski season, with 320 hectares of ski terrain and runs suitable for all abilities. Great for a weekend getaway, the mountain is around 4.5 hours drive from Melbourne and is one of Victoria's most popular winter holiday spots.
Mount Baw Baw Alpine Resort, Victoria
Located at around a two a half hour drive from Melbourne, Mount Baw Baw is Melbourne's closest downhill ski resort. Part of the Great Dividing Range, the resort is a great spot for cross country and downhill skiers and snowboarders. Visitors can look forward to over 35 hectares of groomed runs and an all-out winter sports experience. Families will enjoy the friendly village accommodation, off the slopes entertainment and abundance of beginner's ski runs.
Cradle Mountain Lake, Tasmania
Tasmania isn't as well-known as other beautiful ski fields in Australia, but it still attracts many skiers on their winter getaway. The lesser known skiing hot spot is great for winter sports experiences with uncrowded slopes and amazing alpine views. Take the family and spend some quality time in the snowy wilderness. Advanced skiers should try cross-country skiing on Cradle Mountain and check out the beautiful national park region, complete with a soft


white blanket of snow over its surface.
https://allblogroll.com/10-beautiful-ski-fields-australia/
https://allblogroll.com/wp-content/uploads/2017/06/Perisher-Perisher-Valley.jpg
https://allblogroll.com/wp-content/uploads/2017/06/Perisher-Perisher-Valley-150x150.jpg
Travel
special trip,Travel,Travel tips
Australia might not be the first place you think of when you imagine skiing through heaps of pure white snow, however, there are many quaint resorts and beautiful ski fields to be found in the land down under. Ski season is from June to October each year and many...
Anatoliy Simeonov
Anatoliy
Simeonov
anatoliy.simeonov@gmail.com
Administrator
All blogroll - The informative website