9 Ways To Use Your Conservatory In Winter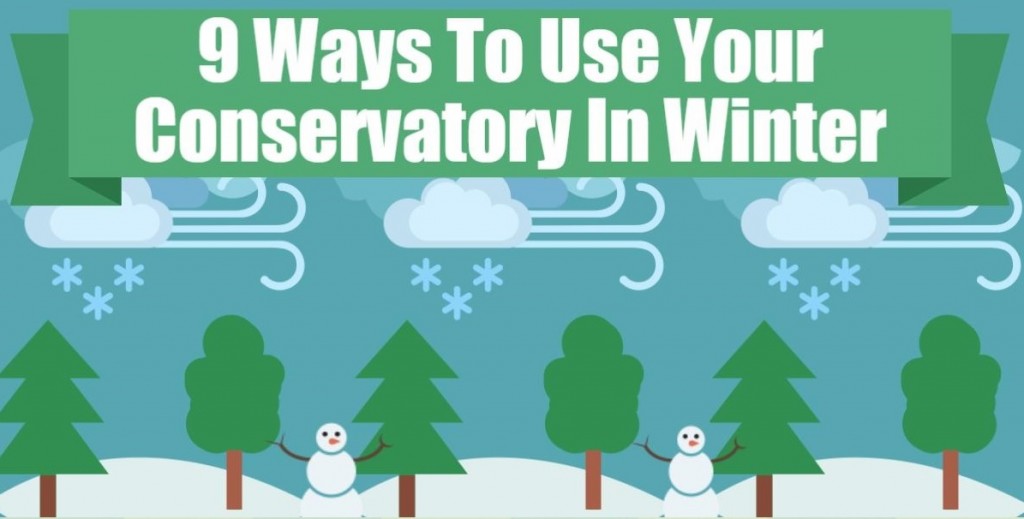 As a homeowner it's likely that you spend a lot of your time thinking about ways to improve your home to add value and make it a nicer place to live in. Depending on your budget, your home improvements could be as simple as redecorating your living room or getting new furniture in your bedroom. If you are looking to improve your home by creating extra space, a conservatory is the ideal solution; it gives you an additional room that connects your home with your garden, as well as increasing the overall value of your home should you choose to sell in the future



Enjoy your garden and feel closer to nature from the comfort of your conservatory; think of it as a portal that bridges the gap between outdoors and indoors. The fully windowed walls and sloping glass roof let in tonnes of natural light, allowing you to spend time in your conservatory long into the evening during the summer, whether you're entertaining friends, or enjoying a moment of solitude with a good book



For many homeowners, however, the conservatory can become a seasonal room as it receives far less use during the cold and dark winter months. After investing all that money, why only use your conservatory for half the year? The experts over at Meadow Hill Conservatories have a few great ideas to help you make use of your beautiful conservatory all year round…
Insulate your conservatory: Your conservatory should have been constructed with energy-saving materials such as double glazing, but you can insulate it further by fitting draught excluders to the doors to keep heat in.

Install radiators: Consider extending the central heating from the rest of your home into your conservatory. Choose an attractive radiator that you can make a feature of, or use a vented cover to conceal it if you don't want it to look unsightly.

Use portable heaters: Instead of a permanent radiator, you could use portable heaters throughout the winter. A fan heater is cheap but can be a bit noisy to use, whilst a gas-filled heater will cost you more but will provide you with a more powerful and consistent heat.

Install under floor heating: If you'd rather not install a radiator or use portable heaters, another option is to have under-floor heating installed. It usually operates independently from your central heating, using its own control panel and thermostat.

Install air conditioning: Not only do air conditioning units cool your room, they can also heat it too. Keep your conservatory cool in the summer, and cosy in the winter for the best of both worlds.

Add some curtains: All that glass is great in summer for letting in natural light, but heat is lost via windows during winter. Blinds and curtains help to insulate your conservatory and keep make it feel cosy.

Include soft furnishings: Add some warmth and texture to your conservatory with blankets, throws, and cushions. If your flooring is stone or tile flooring, a rug can help it to feel warmer underfoot.

Change the furniture: Lightweight wicker furniture is perfect for summer, but lacks cosiness in winter. Either store away your summer furniture, or use blankets etc to make your wicker and bamboo chairs comfier.

Use soft lighting: Natural light is abundant into the evening during summer, but it goes dark during the afternoon in winter. Lamps and candles can create ambience and warmth.
https://allblogroll.com/9-ways-use-conservatory-winter/
https://allblogroll.com/wp-content/uploads/2017/01/Conservatory-1024x519.jpg
https://allblogroll.com/wp-content/uploads/2017/01/Conservatory-150x150.jpg
Home Improvement
garden,Home improvement
As a homeowner it's likely that you spend a lot of your time thinking about ways to improve your home to add value and make it a nicer place to live in. Depending on your budget, your home improvements could be as simple as redecorating your living room or...
Anatoliy Simeonov
Anatoliy
Simeonov
anatoliy.simeonov@gmail.com
Administrator
All blogroll - The informative website