Best 1st Birthday Gifts for Every Budget
Every parent remembers their baby's first birthday. And while parents know their child the best

they usually have no trouble figuring out which present their precious bundle of joy will enjoy the most. The rest of loving family and friends are not that lucky and might find it hard to think of the best 1st birthday gifts.
This truly is a special day. The baby officially becomes a toddler, and it's a milestone that deserves to be celebrated. Of course, if you have made it to the list of the closest family and friends, you will want to pick something unique. To help you out in your search for the perfect gift for this significant event, we have created a list of possibilities for every budget. Whether you opt for something educational and developmental or some fun toys, clothes that are always necessary or books and subscriptions, something splurgy or something cheap and cheerful, we are confident the tiny receiver will love it!
This article is for everyone – parents who want some additional ideas and others who need a bit more help.
1st birthday gifts to spark the child's interest
The great thing about choosing the best 1st birthday gifts is that your options are quite comprehensive. The child becomes more mobile, more perceptive than ever, and their curiosity is immeasurable. They are more and more interested in the world surrounding them and tactile sensations. They particularly enjoy listening to new sounds and looking at new and amusing things. Moreover, they begin to stand and even walk. That presents you with an incredible array of options. There are so many playthings that will encourage and stimulate the child. Therefore, here are some of the ideas.
Push and pull toys
If you are buying a gift for a boy, a push car is an excellent choice. A boy will most certainly love a car, and while he is pushing it around, it will encourage him to walk and make him more confident. An alternative for a girl is a cute play stroller. A girl will love pushing her favorite toy baby in it. Also, a tricycle is a present you can't go wrong with.
Textured toys
One-year-olds just adore these. A textured book that makes various sounds when touched and with every page that feels different gives the child a fun opportunity to learn with their hands.
Stimulating and creative toys are the best 1st birthday gifts
A finger paint kit is a gift every child will enjoy. It will provide hours of entertaining textile experimenting and fun creativity. Moreover, this is the age when the child begins understanding shapes. So, a shape sorter will keep them entertained for hours while developing their cognitive capacities. It will help them develop their minds, logical thinking, and coordination while playing with a colorful toy. These toys come in various shapes and forms and can have some additions, such as a maze or other gadgets. Also, Montessori developmental and educational toys are just incredible, and whichever you choose, it will be a hit.
Fun 1st birthday gifts
There is no child in the world that doesn't like to get a toy. It doesn't even have to be anything elaborate. Often, kids get attached to the simplest stuffed animal. And you can never go wrong with a stuffed animal. But, while everyone chooses stuffed teddy bears and bunnies, you can pick something less expected, such as a narwhal or an octopus.
This is also when the child begins really to enjoy having baths. They start playing in the water, too. So, any sort of bath toys is a fantastic idea. A set of pour toys will bring playtime to their bathtub. Another excellent option, albeit a bit more expensive, is an interactive play table. These have numerous buttons that make various sounds, they play different tunes, and have many gadgets that rattle, clatter, clank, and jingle.
Useful 1st birthday gifts
While these gifts are for the baby, they are even more for the parents. And be sure the parent will appreciate (and probably even count on) receiving a few things they won't have to buy themselves.
Baby clothes
So, if you have decided to steer clear of the toys, clothes are always an excellent option. And other than the size, whatever you opt for, you will hardly make a mistake. Kids get dirty a lot, especially now when they are starting to move independently. So "too many baby clothes" doesn't exist as a phrase in parents' vocabulary. Still, if in doubt, comfortable onesies are a good choice, and there are literally never enough of them. If you wish to splurge a little, baby shoes are also very much needed. And there are so many cute options.
Baby furniture
If you wish to push the boat out, a car seat is something mum and dad will appreciate tremendously, as this is when they will probably have to get a bigger one. Less extravagant but still very useful is a fun toy box (with a toy inside, naturally). Also, the kid will love their new tiny armchair for sure.
Miscellaneous 1st birthday gifts
If the birthday happens to be in summer, an inflatable pool or dingy cannot be a miss. A slide is also a fun gift for a baby just starting to enjoy moving around increasingly independently.
Another wonderful option for the first birthday is a baby's first 12 months frame, where the parents can insert a picture they have taken every month. Children's books are another gift you can't go wrong with.
Finally, blankets, baby towels, a plush robe (cuteness overload), and baby cups, plates, and cutlery are always welcome.
Alternative gifts
Given that bigger celebrations and gatherings are neither advisable nor allowed due to the coronavirus pandemic, you will probably decide to celebrate in the comfort of your home with only the closest family. Those who can't attend may wish to send a present that will not be material but will help create memories.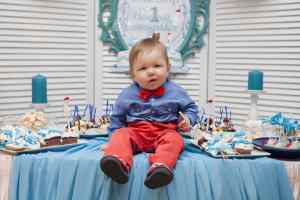 A voucher for swimming lessons or music classes, some family experiences in your area, or even a museum membership are incredible, unexpected, and thoughtful gifts. What is more, you have probably witnessed a kid opening a box excitedly and then playing with the box and the wrapping paper rather than the item that was inside. Well, perhaps something like a voucher or a gift card from a kids' store so parents can choose what they need is a great option. And you can safely send it to their email address.
The options for 1st birthday gifts are truly vast
When you think about it, choosing the best 1st birthday gifts is not that difficult, despite what it may seem at first. If you have no experience with little kids, it's understandable you will need some pointers. And even if you do, sometimes you just can't come up with something original. But ultimately, everybody knows that it's the thought that counts.
Author bio:
Alison Baker is a freelance writer and a blogger who mainly focuses on parenthood and fun family activities. She is a mother of three, two girls and a boy, so she usually writes from her experience and shares her advice with new parents who still feel lost. In her free time, she enjoys decoupage and loves tending to her collection of succulents


https://allblogroll.com/best-1st-birthday-gifts-for-every-budget/
https://allblogroll.com/wp-content/uploads/2021/02/Best-1st-birthday-gifts-for-every-budget-4-1024x683.jpg
https://allblogroll.com/wp-content/uploads/2021/02/Best-1st-birthday-gifts-for-every-budget-4-150x150.jpg
Family
Birthday gift,Gift ideas,Gifts for babies
Every parent remembers their baby's first birthday. And while parents know their child the best, they usually have no trouble figuring out which present their precious bundle of joy will enjoy the most. The rest of loving family and friends are not that lucky and might find it hard...
Betty White
Betty
White
betty@movingofficessandiego.com
Author
All blogroll - The informative website