Importance of Planning and Designing Utility Room



serif;">You may have often noticed that most houses have compressed or tiny utility room which are adjacent to hallway or kitchen. The main reason for such a combination is that it is more convenient for you to work when these two rooms are nearby.
The main turmoil for you is to plan and design your utility room. It is important to store the right equipment at the right place. You may have noticed that utility rooms do not have an organised form, as they are built within the limited space available alongside the kitchen. You are not likely to be surprised to see a cramped utility room.
Some prefer to connect their utility rooms with their exteriors. There are two benefits of doing this, firstly you have adequate space to store and secondly you can keep your boots, shoes, bags or coats in this room. You can also keep a deep freeze in your utility room.
In most of the houses utility room is regarded as a laundry room, which consists of washing machine, sink, ironing-plumbing essentials and sometimes a dish washer or tumble dryer.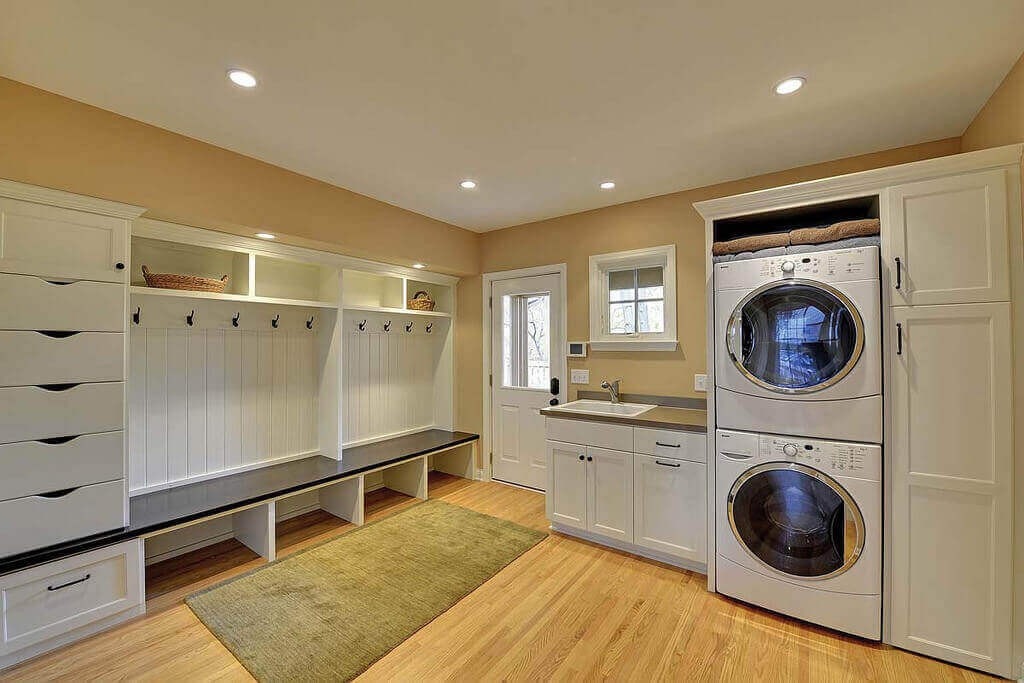 An ideal way to make the most out of your limited space is to purchase an integrated version of washer and dryer. Built-in storage is yet another brilliant way to save space in your utility room. Design in such a manner that any storage space for furniture or appliance do not come in your way while moving. Plastic storage boxes, tins, wicker baskets, laundry baskets, clothes hampers, etc are some items which can be conveniently placed on the worktops therefore, make use of them.
It is important to plan your utility room and make optimal use of the available space. Wasting space by installing unnecessary or useless equipments will be like putting vain efforts.
Enlisted below are some of the factors that you should keep in mind when design utility room
Invest in Utility Rooms
Almost all homes face the problem of space crunch and therefore, it is better to make the best use of the smallest space you have at your home. Put in dedicated efforts to invest in your space. If you are sure that there is no sufficient space around, then you can construct an in-built storage. You can build a good amount of storage in the hallway. Also, think for ideal ways to fill in your free spaces.
You can efficiently work on your tasks as there is no one to bother you in this room. You can listen to music and carry out your daily chores as well.
If you have a utility room right next to your kitchen, you can store your expensive and additional cutlery, saucepans, juicers and other appliances over there. This will make your task of carrying them to your dining area quick as and when required.
While planning a utility room make sure that you take into account the number of family members that reside at your place. The main reason for this is that foot traffic directly impacts the size of utility rooms. If you have family members and friends staying back at your place on a frequent basis, then make sure that you have adequate space in your utility room.
You probably may not have adequate space to install all appliances within your utility room. If you have limited space in your utility room you can install towel radiators which consume less space and provide sufficient warmth to cope with cold weather.
A utility room is likely to be familiar with rough touches and daily wear and tear. Thus, avoid a delicate flooring or design on the walls which are difficult to maintain. Instead you can opt for materials that are durable and can withstand good amount of traffic and load.
Avoid spending on stylish flooring rather than that you can opt for traditional flooring which can bear the entire load.
If you are reluctant to try any new material for your worktops then make use of laminate worktops. They can stand the load in your utility room and can be easily cleaned. You do not have to put a lot of efforts to clean a small stain instead a gentle wipe of wet cloth can clean it effortlessly.
You may have come across various laminate designs, but make sure that you use a simple one. Perhaps, avoid designs which comprises of minute gaps because it can be really complicated to clean them. Avoid spending a lot of money for utility rooms because it is not a room which guests prefer visiting.
Check your home and analyse which is an ideal location for crafting a utility room. Ensure that you do not build it right in front of your living room as it won't give a good look to your home. Instead you can build it right next to your kitchen or adjacent to your house.
If you have terraced flat, it is better to have your utility rooms in the middle of the floor. The main reason for this is that it is convenient to move across the room and maintain an appropriate balance in your flat.
In case you think that you need ample of storage space then it is better to build your utility room adjacent to your house. In this way, you will have plenty of space to store all the appliances and wicker baskets. Make sure that you have closed storage places so that if you have some unexpected guests, your utility room does not appear hideous to them.
Everybody is aware of the fact that you are less likely to not enter your utility room unless and until you have some work. Furthermore, you may favour doing laundry in the weekends and therefore have unclean clothes stacked for the whole week. All these collectively, increase the chance of the room to catch stingy smell.
In order to avoid such smell make sure that you have constant circulation of fresh air in the room. If possible have windows on the opposite walls as they ensure easy flow of air in and out of the room and create proper ventilation.
Besides, avoid keeping wet clothes cramped in the baskets because they tend to spread bad odour in the room. Instantly dry them with the help of a dryer or hang them in open space where natural sunlight travels. Take into account the weather conditions before putting them outside.
Apart from this, you need to consider the design of your utility room in order to make effective use of the space you have at your place. There are some basics which may help you to do so:
Generally, basement is the place wherein homeowners prefer to create their utility room. The essential reason for this is that there is less noise and humidity at this particular spot. In case you are someone who prefers to have your utility room across children's room or master bedroom, make sure that you install appliances which have less vibration and noise. In this way, sleep of other family members will not be hampered.
Remember, to check decibel of washing machine and dryer while purchasing them. In case there are no db details mentioned then it means that they are likely to emit huge sound and hinder smooth functioning in the adjacent rooms. Also, make it a point to affix a door which makes less banging noise because you probably are going to make frequent trips.
Every household builds utility room for a different purpose. Make it a point to remember your main reason to build this room and design it accordingly. For instance, if you are planning to wash, dry, fold and place clothes there and then, you probably will need more space to carry out these tasks.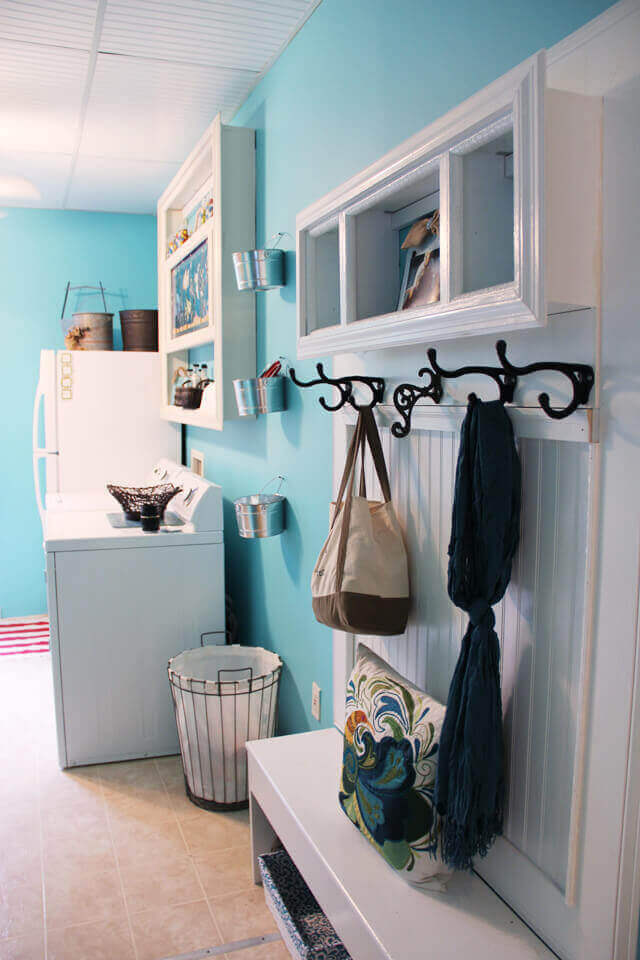 It is more flexible to have a washer, in the corner and dryer right next to it so that you do not have to make long walks across the room. Place them at the same height level in order to avoid bending again and again. Make sure that you place detergents and other products, which you may need beside the washing machine only.
You possibly do not have large space for your utility room therefore, it is crucial to take accurate measurements and then purchase appliances. There are wide range of machines like top-load, front-load, etc. available in the market so choose the one that fits perfectly into your space.
If you are going to fold your clothes there, then create some space for it so that you can neatly fold and place them. Also, make adequate space to hang these clothes so that you can place your ironed clothes in a synchronized manner.
Try your best to install less number of appliances because they consume a lot of space and it may become difficult for you to walk around the room.
Remember to separate wet and dry area so that you do not end up flooding your utility room. Check all plumbing process because improper system may not last longer and you will have to put in extra efforts to fix it.
An L-shaped utility room is considered to be the best choice as you can place all essentials in a systematic manner.
Consider yourself fortunate if ample amount of sunlight travels in your utility room. In case you are not that lucky make it a point to include good amount of light in the room so that you can swiftly perform your tasks. Avoid sharp lights as they cause headache and obstruct visibility.
Lastly, do not fall in the trap of inexpensive offers because poor quality appliances or equipments may probably not last for longer duration. You will have to make additional expense of purchasing a new one



https://allblogroll.com/importance-planning-designing-utility-room/
https://allblogroll.com/wp-content/uploads/2017/10/laundry-room-1024x683.jpg
https://allblogroll.com/wp-content/uploads/2017/10/laundry-room-150x150.jpg
Home Improvement
Home,Home improvement,interior
You may have often noticed that most houses have compressed or tiny utility room which are adjacent to hallway or kitchen. The main reason for such a combination is that it is more convenient for you to work when these two rooms are nearby. The main turmoil for you...
Anatoliy Simeonov
Anatoliy
Simeonov
anatoliy.simeonov@gmail.com
Administrator
All blogroll - The informative website