MANTI with garlic yogurt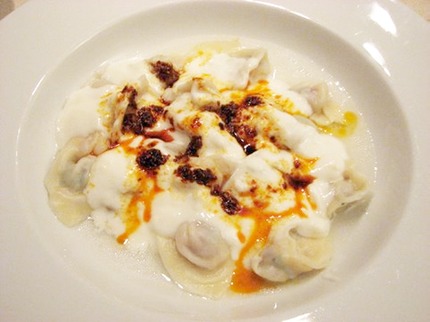 Manti is a much cherished dish in Turkey.  You can find different MANTI varieties in different regions of Turkey even though they all share more or less the same ingredients. The version of MANTI with garlic yogurt is most commonly made in home kitchens.  MANTI is similar to Italian Ravioli and requires fresh pasta leaves for the assembly.  If you do not know how to make fresh pasta, there are plenty of online sites with step by step instructions




INGREDIENTS:
Fresh Pasta:

2.5 cups regular flour
1 egg
1/2 cup water
2 teaspoon salt

Meat Filling:

1/2 lb ground sirloin
1 medium onion
1/4 bunch parsley
1/4 teaspoon black pepper
1/4 teaspoon salt

Topping:

1 cup yogurt
1/2 teaspoon salt
1 clove of garlic
1 tablespoon butter
1/2 teaspoon paprika
DIRECTIONS:
Yogurt Topping:
Measure 1/2 cup yogurt into a small mixing bowl, add pressed garlic and salt, mix well



Meat Filling:
Finely chop the onion, set aside.
Finely chop the parsley, set aside.
Combine the ground meat, onion, parsley, salt and pepper in a mixing bowl, mix well.
It is important to note that MANTI dough has less egg in it than you would typically use in a fresh pasta dough.  If you are using a pasta machine such as the one shown on the right use the 5th or 6th setting.
Cut the sheets into 1.5″ x 1.5″ squares and put a little meat filling on each square as shown below.
Sprinkle flour on a tray so that the manti shells do not stick to the tray.
Boil the manti shells until the pasta is cooked, about 10 minutes. Turks cook their pasta a little softer than al dante.
Melt the butter in a sauce pan. Add paprika, set aside.
Place the dumplings on a serving plate, spread the yogurt mixture, garnish with the butter/paprika sauce and serve.
https://allblogroll.com/manti-with-garlic-yogurt/
https://allblogroll.com/wp-content/uploads/2016/02/pasted-file-23_med.jpg
https://allblogroll.com/wp-content/uploads/2016/02/pasted-file-23_med-150x150.jpg
Eat & Cooking
Eat and cooking,Pasta
Manti is a much cherished dish in Turkey.  You can find different MANTI varieties in different regions of Turkey even though they all share more or less the same ingredients. The version of MANTI with garlic yogurt is most commonly made in home kitchens.  MANTI is similar to Italian Ravioli...
Anatoliy Simeonov
Anatoliy
Simeonov
anatoliy.simeonov@gmail.com
Administrator
All blogroll - The informative website