How to Become a Luxury Real Estate Agent
If you have been an agent for some time now, you may be starting to feel the need for something more. With time


it's natural that your goals change, and you want to achieve more. So, if your new goal is to become a luxury real estate agent, you may need a few tips on how to get into those waters.
You know that you want to attract more affluent individuals and work with beautiful luxurious homes. However, you feel like you are invisible to those both listing and buying luxury properties. You need to have a few tricks up your sleeve to break into this market. For a start, you need to differentiate yourself to become attractive to high-end clients. If you are struggling with reaching the next level, you can always seek some coaching. But before you do that, let's see which steps you can take that will get you closer to your dreams.
Cover the basics
Before you even start thinking about getting into the luxury homes market, you have to know that having a license is a must.
Next, you should ask yourself the following:
Do you have a lot of experience, and are you an established agent aiming to make more profit per transaction?
Do you already have a number of affluent contacts?
Are you skilled enough, and do you possess enough knowledge to handle any issues high-net clients could have?
If you can positively answer all of the above, the luxury real estate market is worth considering. Then you need to understand what constitutes luxury real estate.
What does luxury real estate mean?
In the US, luxury real estate are homes more expensive than 1 million dollars. Naturally, dealing with such properties is much more profitable for a real estate agent. However, there is more to luxury real estate than a price tag. For example, in some cities, properties worth over 1 million dollars are quite common. Moreover, they don't necessarily categorize as luxurious. Their price stems from their excellent location. And as we know, in real estate, location is everything.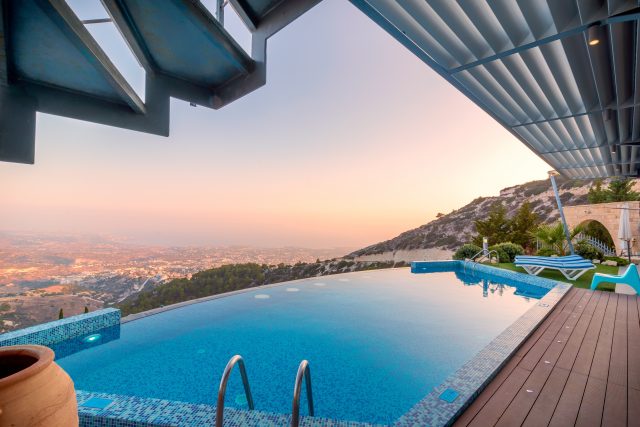 Thus, for a home to receive such an epithet, it should fulfill the following requirements:
It should be extraordinary, not only in terms of architecture but also in terms of features that allow for a luxurious lifestyle. For example, a private waterfront location qualifies as a luxury.
It has to possess an air of exclusivity. What this implies is status. People will place substantial amounts of value on things unique and hard to obtain. So, luxury real estate is often offered only to a small group of privileged individuals.
It has to offer way more than shelter; that is, it has to be a status symbol and fulfill indulgent wishes rather than basic needs. Therefore, it would be best to be informed about the latest trends so you can assist your prospective clients in the best possible way.
What is necessary to become a luxury real estate agent?
Besides the licenses, of course, you need to take care of a few more details if you want to become a luxury real estate agent.
Develop your online presence
The vast majority of home buyers look for real estate agents online. Therefore, your virtual presence must be top-notch. Not only should you work on the visual appeal of your website, but you must also ensure that you are the first agent potential clients see when they start searching. This is not an easy thing to achieve, and it will require a lot of effort. Essentially, you will have to make yourself visible to search engines and use all possible platforms to do that.
When developing your website and later creating content, ensure you represent your brand in the best possible light. Moreover, exploit social media channels. LinkedIn, for instance, can help you connect with other professionals in your field and build your network. As for connecting with people and potential clients, make use of Facebook. All of that will help your visibility.
Know the needs of luxury real estate clients
Understanding your clients' needs is essential for success in any area. You must know their goals and their pain points. Also, you have to know how to help them overcome any issues. When it comes to luxury real estate clients, their problems don't typically revolve around finances. Also, they look for much more than a shelter. They want a home that will enable them to enjoy a luxurious, indulgent lifestyle – a lifestyle unattainable to non-luxury homebuyers.
Here are some of the issues that luxury real estate clients face:
Tax law and tax burden easement
Legacy and estate planning
Insurance
Privacy
Zoning
Common property and prenuptial
Investing and development.
So, to become a luxury real estate agent, you need to build your skill and knowledge to solve these types of issues. You need to be able to give tips on deeds and other documents when necessary and do so instantly.
Networking is vital
Connections are especially important in the world of real estate. So, attend galas, charity events, and become involved with your community. By doing so, you will meet many people from different social circles and expand your network of contacts. Just remember to always have a good amount of business cards to hand out.
Ensure enough starting capital
While it is true that luxury real estate agents make significantly more money, they also need to spend more. It is necessary to invest in marketing campaigns, especially initially.
Invest enough effort in marketing yourself well
As we have already mentioned, working on your social media presence is crucial as, nowadays, social media gets a lot of attention when it comes to marketing strategies. As these platforms will help you connect with potential clients, make sure you become an expert in your field. This is where people will seek advice or come across a post you have written or shared that has helped them. And that is how you generate leads and receive referrals.
Consider farming expired listings
Far from a glamorous source of business, farming expired listings could be the fastest and easiest way to get into the market of luxury real estate. You know that the owner is motivated to sell, but for whatever reason, they can't. Perhaps the house wasn't priced appropriately, or the previous agent did a poor job marketing it. Or the demand was low. The frustration may lead the owners to try another agent, and that is your chance.
Dress for success
A suit does not make a person, but it does make a successful agent. As superficial as it sounds, people judge others by their appearance. Therefore, make sure you dress professionally and maintain an image that will emit confidence and reliability.
Conclusion
Luxury real estate is a goal for many agents. Its reputation really is glamorous, and its earning potential is above any other real estate niche. So, if you intend to become a luxury real estate agent, know that it will involve a lot of hard work and persistence. However, your efforts will pay off



https://allblogroll.com/how-to-become-a-luxury-real-estate-agent/
https://allblogroll.com/wp-content/uploads/2022/07/How-to-Become-a-Luxury-Real-Estate-Agent.jpg
https://allblogroll.com/wp-content/uploads/2022/07/How-to-Become-a-Luxury-Real-Estate-Agent-150x150.jpg
Home Improvement
luxury,real estate
If you have been an agent for some time now, you may be starting to feel the need for something more. With time, it's natural that your goals change, and you want to achieve more. So, if your new goal is to become a luxury real estate agent, you...
Betty White
Betty
White
betty@movingofficessandiego.com
Author
All blogroll - The informative website